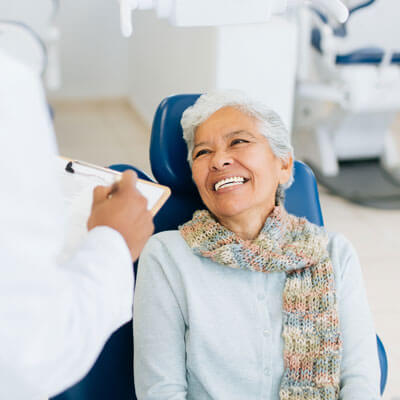 LaGrange Dental Services
As a family and cosmetic dental practice, our dentists provide comprehensive services for adults and children alike. We strive to create an experience where you can feel comfortable and confident about receiving the highest quality of oral health care available.
For over 30 years, families have returned to our practice with younger generations, to access the great care they've experienced with us for decades.
Here are some of the different types of treatments we offer:
General Dentistry
Routine dental exams, diagnostic X-rays, oral cancer screenings and preventative cleanings help you get the most out of your smile for a lifetime. We also offer customized protective mouth guards to safeguard your teeth and existing restorations against bruxism (grinding).
Learn more about general dentistry…
Oral Surgery
Between our two dentists, we provide comprehensive in-house oral surgery including wisdom tooth removal, surgical extractions, bone grafts and implant placement.
Periodontics
Non-surgical gum disease treatments can help you preserve your natural teeth for as long as possible. Ask about our deep cleanings and bone grafting.
Endodontics
Gentle root canals protect an infected tooth. If you've experienced severe tooth pain or a dental abscess, endodontic therapy is likely the best solution.
Family Dentistry
We enjoy caring for patients of all ages and their families. Focusing on preventative therapies like protective sealants and fluoride treatments.
Cosmetic Dentistry
Enjoy customizable cosmetic dental treatments for brighter, fuller, straighter looking teeth. We offer everything from in-office teeth bleaching to tooth contouring and veneers.
Orthodontics
Dr. Jacobs is a member of the American Orthodontic Society and offers comprehensive braces treatments here in our family practice. Schedule an evaluation for you or your child today!
Restorative Dentistry
From porcelain implant restorations to custom crowns, bridges and dentures, we offer customized therapies to enhance your smile's health (and appearance)!
Invisalign®
Ready to renew your smile? This modern-day orthodontic treatment helps align your teeth without harsh metal braces.
Are You In Pain?
Call us for same-day care. Existing patients can access our dentists 24-hours a day for urgent assistance. Get 0% CareCredit financing available on most services, or ask about our Access Dental Now plan.
Contact us today for the best in family dental care!

Dental Services LaGrange | (706) 884-2457