Access Dental Now in LaGrange
Choice One Dental of LaGrange Options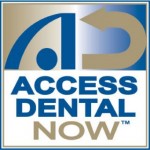 If you don't have conventional dental insurance, you may have been putting off your routine checkup. Over time, you could have started to notice problems like gum disease or cavities popping up.
Now you need coverage, but it's not offered through your employer. An excellent choice is the Choice One Dental of LaGrange dental insurance alternative: the Access Dental Now plan.
How Our Plan Works
You save money on the cost of your dental care by enjoying one annual fee for coverage on
Preventative exams and X-rays
Cleanings and gum disease screenings
Discounts on restorative treatment
Savings on elective services, like cosmetic dentistry
Plus, as a patient of record, you'll have access to 24-hour emergency dental care with one of our family dentists.
Who Is a Candidate?
Anyone without dental insurance can join the Access Dental Now plan to start saving on their next appointment (it cannot be combined with existing policies). You can enroll yourself, your children or your family as a whole. It doesn't matter if you've kept your visits every six months or haven't seen a dentist in years; the program is open to everyone.
Prevention-focused Care
Through affordable preventative care, you can keep your teeth healthier for years to come. We encourage you to take advantage of this affordable insurance alternative, which makes it possible to keep your checkups scheduled every six months.
Thanks to intermittent screening and therapeutic, preventative care, we're able to check for issues and diagnose problems earlier (when they're more affordable to treat). Not only is it better for your smile, but it's also easier on your wallet.
Ready to learn more about enrolling in Access Dental Now? Contact us today for the details!

Choice One Dental of LaGrange | (706) 884-2457