Information for New LaGrange Patients
Visit Choice One Dental of LaGrange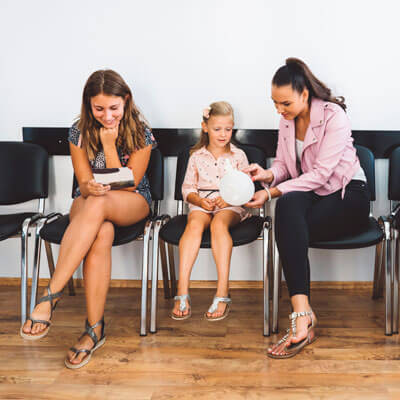 We're thrilled that you've decided to make our practice your new dental home! For over 30 years, our team of providers and staff have served generations of families just like yours – many of whom are children that have grown up with us and are returning with families of their own.
Resources for New Patients
Insurance and Financing – We accept most insurance plans and offer affordable options if you don't have coverage (including 0% financing).
Access Dental Now – Our in-house program is the perfect alternative for families without dental insurance.
Special Offers – Learn about our patient referral incentive.
Be sure to read some of our patient testimonials to discover what it's like to be a part of our practice. We appreciate hearing from you! If you were referred to us by an existing patient, please bring your referral card with you.
What to Expect
Your new patient experience will last approximately 60-80 minutes (not counting registration time). If possible, fill your forms out in advance or arrive 15 minutes early to complete them in our office. Be sure to bring an ID with you; parents, an adult will need to accompany your minor.
When everything is ready, your practitioner will escort you back to the treatment area to talk about your concerns, the new patient experience and take a full set of X-rays. As part of your dental exam, we will also screen for oral cancer and periodontal disease. If your mouth is healthy, a preventative cleaning will be completed at that time (if you have gum disease, a scaling may need to be booked out for later).
What If You Need Treatment?
Should our dentist find anything concerning, we'll use a high-resolution intraoral camera to snap photos of our findings and share them with you on a television in the room, so that you can self-diagnose the findings alongside us. If treatment is necessary, we'll provide a quote and estimated portion due, so you know what to expect before scheduling the appointment.
Emergency patients will also receive an itemized treatment plan. Same-day dentistry is available to get you out of pain temporarily until you can schedule a more permanent procedure. After palliative treatment, we'll want to have you return for a comprehensive new patient experience to make sure nothing else is going on.
Contact us today to schedule your first visit!

New Patient Center | (706) 884-2457