LaGrange Dentist Dr. Dustin Jacobs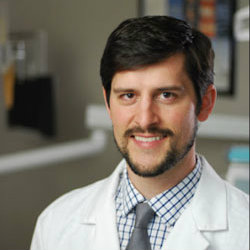 When Dr. Jacobs was just 2 years old, his mother had an idea that he would grow up to be a doctor. As he got older, his love for science and passion for others intersected in a path that led to a career in dentistry.
An Ohio native, Dr. Jacobs went to dental school in state. He graduated from The Ohio State University College of Dentistry in 2008, after completing his undergraduate degree at Bowling Green State University.
His professional affiliations include
Exploring Progressive Dental Therapies
For nearly a decade, Dr. Jacobs has focused his skills on incorporating advanced, minimally invasive techniques into everyday dental care. He is frequently taking professional development courses on therapies like orthodontics, sleep dentistry, implantology and cosmetic dentistry.
It's once he sees the confidence and joy on his patients' faces when he says he feels the most fulfilled in his career. Achieving a healthy and cosmetic balance is a completely life-changing experience for the individuals that he serves.
DENTAL SERVICES
Always on the Go
When he isn't at work, Dr. Jacobs and his wife Morgan are busy spending time with their two children. A favorite family outing is taking walks at Bogan Park. He also likes riding dirt bikes and brewing his own craft beer.
Contact Choice One Dental of LaGrange to schedule your appointment!

Dentist LaGrange | (706) 884-2457